News Room
Print this page
PRESS RELEASES
Subscribe to RSS Feed
FACT SHEET: City of Mobile to decrease police jurisdiction to increase public safety
August 15, 2016
"In order to become the safest City in America by 2020, we must take advantage of every resource at our disposal. Reducing the police jurisdiction allows us to focus more resources and personnel on protecting our citizens. We'll know we are on the pathway to success when we begin to hear more people saying, 'I feel safe in Mobile'. We will continue to work diligently to gain the confidence of citizens as we address these challenges facing our city." - Mayor Stimpson

Mayoral Action:
Mayor Stimpson, Councilman Williams, Councilwoman Gregory and Councilwoman Rich are sponsoring an ordinance on Tuesday's City Council agenda that would reduce the police jurisdiction from three miles to one and one-half miles allowing the City of Mobile to allocate more resources to public safety within City limits.

Background Facts:




Currently, the City provides full police and fire coverage within three miles of the City limits.


Exceptions include a narrower juridiction between Mobile and Semmes and north of Prichard.


Recent legislation by the Alabama Legislature allows the City Council to adopt an ordinance decreasing the police jurisdiction to one and one-half miles.


If such an ordinance is passed prior to October 1 of any year, it becomes effective Januarty 1 of the next year.


Under current law, a city that exercises a police jurisdiction must provide services in any fiscal year at least equal to the amount of business license fees collected in that year.


Each city must file a report documenting its satisfaction of that law.


For 2015, the City's report showed that the City collected $2,146,063 in business license fees in the police jurisdiction.


If the police jurisdiction is decreased:


The City could realize a minimum of $1.5 million in savings that will in turn improve services for our citizens.


This will reduce the City service area 51 square miles.


The City will respond to approximately 30 percent fewer calls in the police jurisdiction.


View Map (PDF)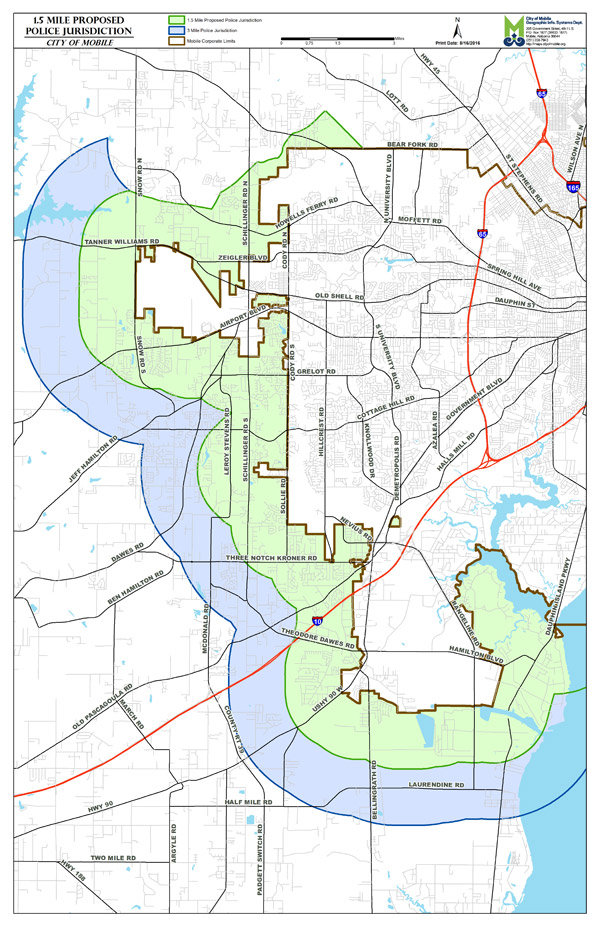 CITY RESOURCES