Firefighter of the Month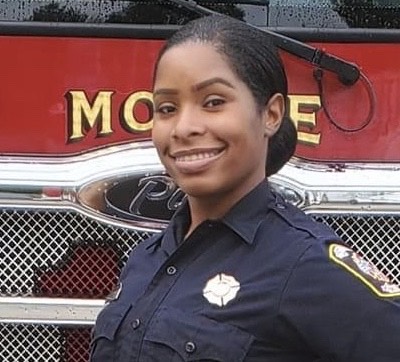 MOBILE, Ala. - Firefighter Krysten Richard ("ree" – "shard") began her career with Mobile Fire-Rescue in 2016 as a Public Safety Dispatcher I, eventually promoting to a Public Safety Dispatcher II in 2018. A couple months after promoting to PSD II, Firefighter Richard applied and was accepted into MFRD's Firefighter Recruit Class 2018-02.
Since graduating in March of 2019, Firefighter Richard has worked tirelessly to improve her skills, including but not limited to enrollment in a paramedic program to obtain a Paramedic license and taking several specialty certification courses through the Alabama Fire College.
While on her way to work on the morning of Monday, July 27, 2020, Firefighter Krysten Richard witnessed a car ahead of her hydroplane before landing in a concrete ditch. She immediately pulled over to assess the situation. Firefighter Richard, in a heavy downpour of rain, was able to assist the driver and her daughter safely out of the vehicle prior to the arrival of emergency crews on scene.
In addition to her actions on July 27th, she is to be commended on her dedication to the Department and the City of Mobile throughout the recent Hurricane Sally impact. Firefighter Richard worked for more than 24 consecutive hours at Communications, coordinating MFRD radio traffic, managing 911 calls during a disastrous storm, and directing dispatches of MFRD units throughout the City. Immediately following, FF Richard reported for duty to her engine to work her 24-hour shift as a Firefighter in the field.
Firefighter Richard's actions are a testament to her character and dedication to her profession(s) and to those around her. Words and awards cannot adequately represent the appreciation of the City of Mobile or the Mobile Fire-Rescue Department.
Therefore, Fire Chief Jeremy Lami and the Mobile Fire-Rescue Department proudly recognize Firefighter Krysten Richard as the September 2020 Firefighter of the Month.