Recycling
Emerald Coast Utilities Authority is still not accepting recyclables from outside contracts, like the one it has with the City of Mobile. Based on their latest communications with our staff on September 21, we estimate that our recycling centers could be reopened by mid-October at the earliest. However, that could change based on ECUA's timeline.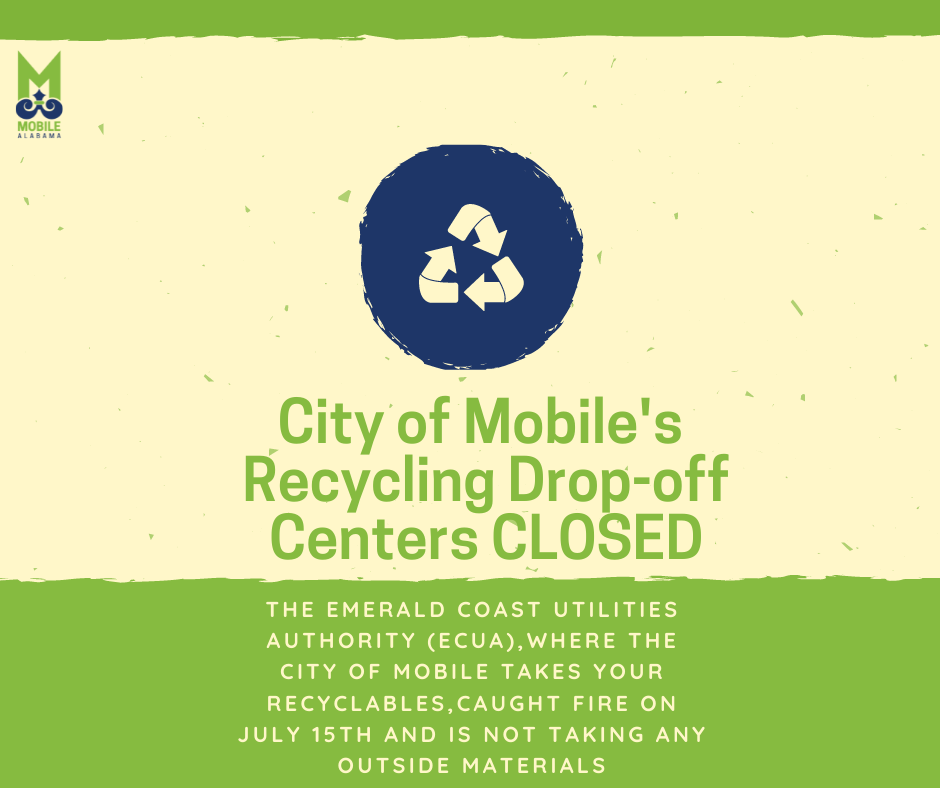 We encourage you to use the Mobile County Recycling Center located at 7450 Hitt Road until ours reopen. Mobile County and Goodwill Gulf Coast staff separate and sells the recyclables, so they require separation to keep costs down. Be sure to deliver cleaned and separated recyclable materials. Additionally, if you have any time and can volunteer at the Recycling Center, please do! They need extra help with the increased recycling volume the City of Mobile is sending their way.
Earth Resources is a private, local company that picks up recycling weekly. You can reach them at 251-666-4482 or via email at info@earthresourcesrecycling.com
Please know we are in close contact with ECUA and will keep you up to date with any changes.
Click HERE for more detailed information about the current state of our recycling program.
City of Mobile Recycling Drop-off Locations:
4851 Museum Drive
City's Western Administrative Complex in Langan Park across from the Mobile Museum of Art
308 Pinehill Drive
Behind (to the North of) the Police Headquarters between Government St. and Airport Blvd.
Normal hours of operation are Monday-Friday 7 a.m. -5 p.m. and Saturday-Sunday 7 a.m.-4 p.m
Recycling at these two drop-off locations is a service for City of Mobile residents only. The City will no longer accept recyclables from businesses or those residing outside Mobile.
Click HERE for the Holiday Schedule.
For more information
Call 311 (251-208-5311)
We are on the path to becoming a cleaner, greener community!
To make recycling easy, the City of Mobile uses a single stream method meaning citizens are not required to sort their recyclables.
Yes! Please Recycle These Items:
Glass; any color
Newspaper & Inserts
Magazines & Catalogs
Junk Mail & Envelopes
Cardboard
Phone Books
Office and School Papers (colored paper)
Brown Paper Bags (grocery)
Boxboard (cereal, cake & cracker boxes, etc.)
Pizza Boxes (without heavy residue)
Plastic Produce Clamshells
Plastics No. 1 through 7
Plastic Milk Jugs, bottles, and containers
Aluminum Cans & Lids
Pet Food Cans and Dry Pet Food Bags
Aluminum Foil Baking Pans
Balls of Tin Foil; Foil Pie Tins
Tin and Steel Cans & Lids
Metal Pots, Pans & Cookie Sheets
Egg Cartons, cardboard only
No! Do Not Recycle These Items:
No Plastic Bags - Please return to your local grocery store.
No Ice Cream Cartons
No Waxy/Paper Milk Cartons
No Aerosol Cans
No Juice Boxes / Bags
No Food Waste
No Garbage or Yard Waste
No Garden Hoses
No Window Blinds
No Tarps
No Bedding or linens
No Carpeting or Rugs
No Construction Materials
No Clothes
Bubblewrap
No Diapers