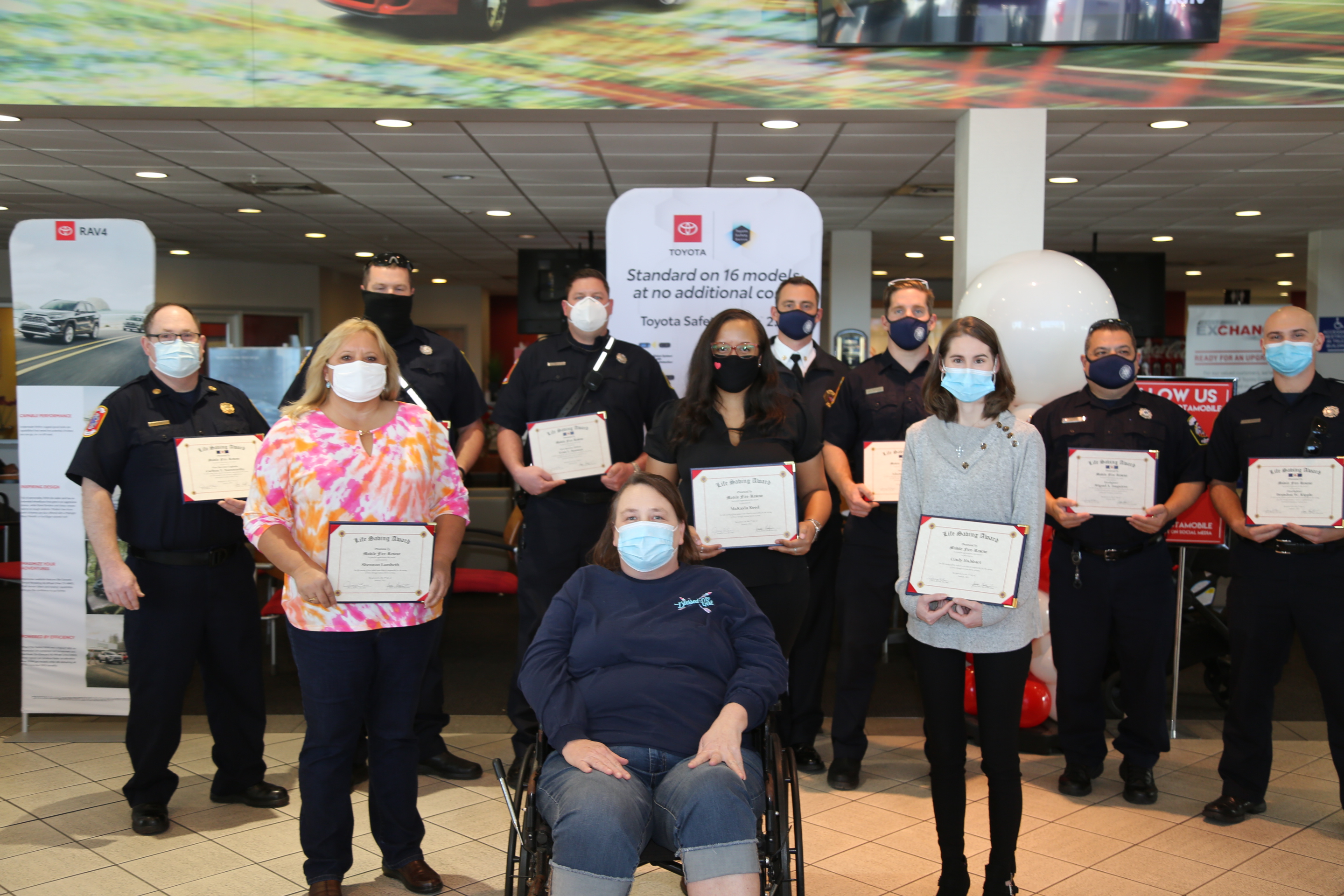 On Tuesday, October 13, 2020, Mobile Fire-Rescue crews responded to Springhill Toyota (3062 Government Blvd) for a patient in cardiac arrest. Upon arriving on scene, first responders were led to the patient - Lisa Perry, grandmother of 10 - where they discovered that cardiopulmonary resuscitation (CPR) was already in progress.
Three good-natured bystanders witnessed the arrest and jumped to action, beginning chest compressions, locating and applying a nearby auto external defibrillator (AED), and calling 911 for emergency help. MFRD would learn later that the 3 women who swooped in to save the day are all nurses who were off-duty, did not know each other, and were all in Springhill Toyota for separate, unrelated reasons.
The civilian nurses had performed several rounds of outstanding chest compressions and shocked Perry's heart three times with the AED prior to MFRD arrival.
As paramedics and EMTs from Rescue 19 and Engine 19 assumed patient care, an additional shock was applied (along with other lifesaving interventions). Though faint and weak, Perry's pulse returned. She was immediately transported to a local hospital, where she continued to battle for survival, spending weeks in a medically-induced coma in the ICU, receiving treatment, care, and undergoing recovery.
Perry, indeed, survived and was released from hospital care. Following her ordeal, she expressed great desire for the opportunity to meet the civilians and responders who worked together to save her life.
Today, her wish was granted!
Fire Chief Lami and MFRD proudly presented awards for all involved in this lifesaving event.
Excellence in Business Award:
Springhill Toyota
Civilian Lifesaving Award:
Shennon Lambeth
Cindy Hubbart
MaKayla Reed
Lifesaving Award:
Cpt. Todd Norsworthy
Driver John Hall
Driver Evan Seaman
FF Adam Beeson
FF Brandon Ripple
FF Miguel Izaguirre
Although she is still on the road to recovery, Lisa Perry is thankful and happy to be alive.
"Between them all and God is why I'm still here. I don't know. There's not enough to say to people for what they did for me," Perry said.
What an amazing outcome to a remarkable story.