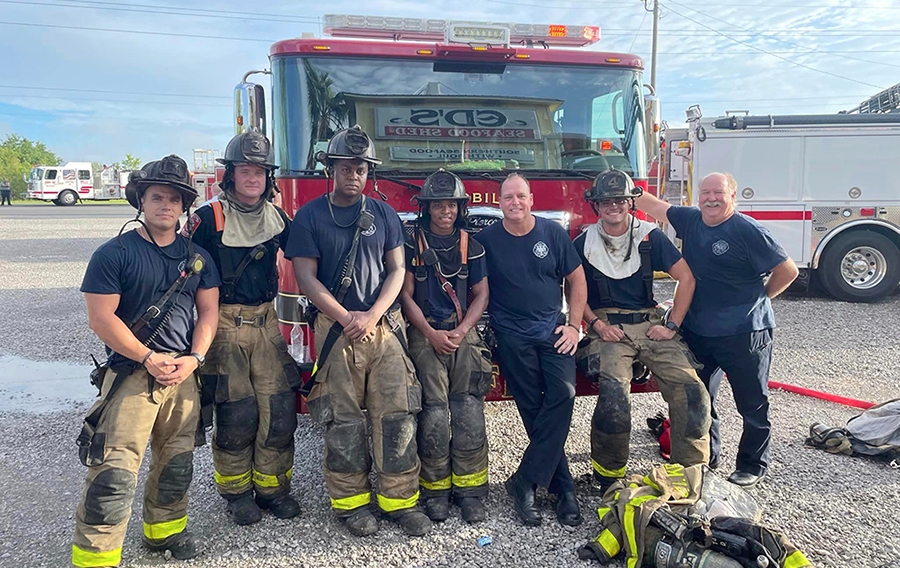 ---
Mobile Fire-Rescue Department (MFRD) is an internationally recognized fire department, rated ISO Class-1 by the Insurance Services Office (ISO) - a distinction held by only 1% of the nation's fire districts. We are comprised about 500 employees (sworn and non-sworn) who staff 19 engine companies, 12 advanced life support ambulances, technical rescue companies, and hazardous materials response units.
In August 2023, Mobile Fire-Rescue Department received the Notice of Accreditation by the Commission on Fire Accreditation, International (CFAI) culminating a two-year effort. The accreditation process involves voluntarily undergoing a rigorous review by outside evaluators to verify that we are meeting internationally recognized standards of performance. To remain accredited, we must file an Annual Compliance Report and re-apply for accreditation every five years. For more information, visit the Commission on Fire Accreditation International at the Center for Public Safety Excellence Accreditation Overview - Center for Public Safety Excellence (cpse.org).
The Mobile Fire-Rescue Department is committed to providing the best and most efficient services to you its customer. We are constantly updating our services to better serve the City of Mobile and maximize the value of its citizens' tax dollar. We welcome your comments and suggestions. Call us at (251) 208-7351, Monday through Friday, between 8 a.m. and 5 p.m.
REMEMBER FOR EMERGENCIES: DIAL 911
Call the Public Education Office at (251) 208-7378 if you know a child or juvenile who sets fires; if you want a fire safety presentation for your day care, school, civic group or business.
Call the Department's Bureau of Fire Prevention at (251) 208-7484 if your business or institution needs to be inspected for fire safety; if you are opening a new business; if you are planning a new building, an addition, or remodeling. Plans must be reviewed and approved prior to building and opening.
For more information on the Mobile Fire-Rescue Department, call the Public Relations Office at (251) 208-7769. Our headquarters is located at the Central Fire Station, 701 Saint Francis Street. Office hours are Monday through Friday, 7:00 a.m. to 4:00 p.m.