Deputy Chief Dwayne M. Penn Sr.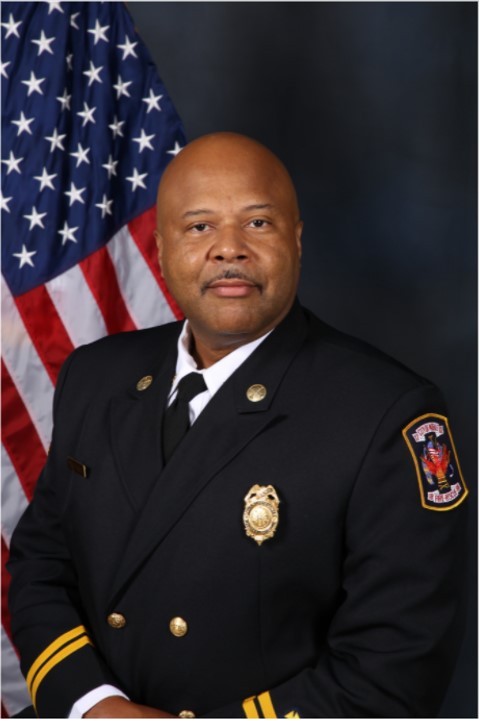 It is with great pleasure that I serve as Deputy Chief of Support for the Mobile Fire-Rescue Department. With more than 25 years of service and a Master's Degree in Safety, I have dedicated my entire professional career to the health and safety of the citizens of the City of Mobile. I have always embraced the values and principals of serving and raising one's level of consciousness as it relates to health and safety.
The Office of Fire Prevention practices being proactive in arson investigations, fire code enforcement, and public education. This office continually works on bridging all the stakeholders together with life safety as the focal point and driving force.

The Arson Team is comprised of several police certified fire investigators who are responsible for determining the origin and cause of fires. These individuals enforce the arson laws but offer a more suitable restoration service in our Juvenile Fire Setter Program, when required. The arson team is a prominent force in the region in solving arson cases and getting convictions.

The fire inspectors are tasked with enforcing the latest adopted fire codes. This unit has evolved into becoming a critical and significant part of our business community to depend on, when assuring safe building planning and construction. Our inspectors address safety concerns at a weekly pre-development meetings to make the potential business owners aware of any safety issues while their project is in conception.

Our Public Information, Education, and Relations or P.I.E.R. is the foundation of community outreach and public education. We make our service available in homes, schools and churches. Public education is the place where our personnel delivers clear learning objectives to enhance the overall safety climate of the community. Our P.I.E.R. division is the cornerstone of prevention and fire safety awareness. We diligently have worked for the past several years with providing and installing smoke detectors in each family member's home. We provide a tremendous awareness and service to members of the every community and citizens of Mobile.

This office and the department both are dedicated to this community in which we serve. I am blessed to assist you and I commit myself to providing a positive lasting image of this office, one that can be admired and modeled. Never hesitate to contact me or any of the great members of this office. We are here for you.


Yours in Protection,
Deputy Chief Dwayne M. Penn, Sr.