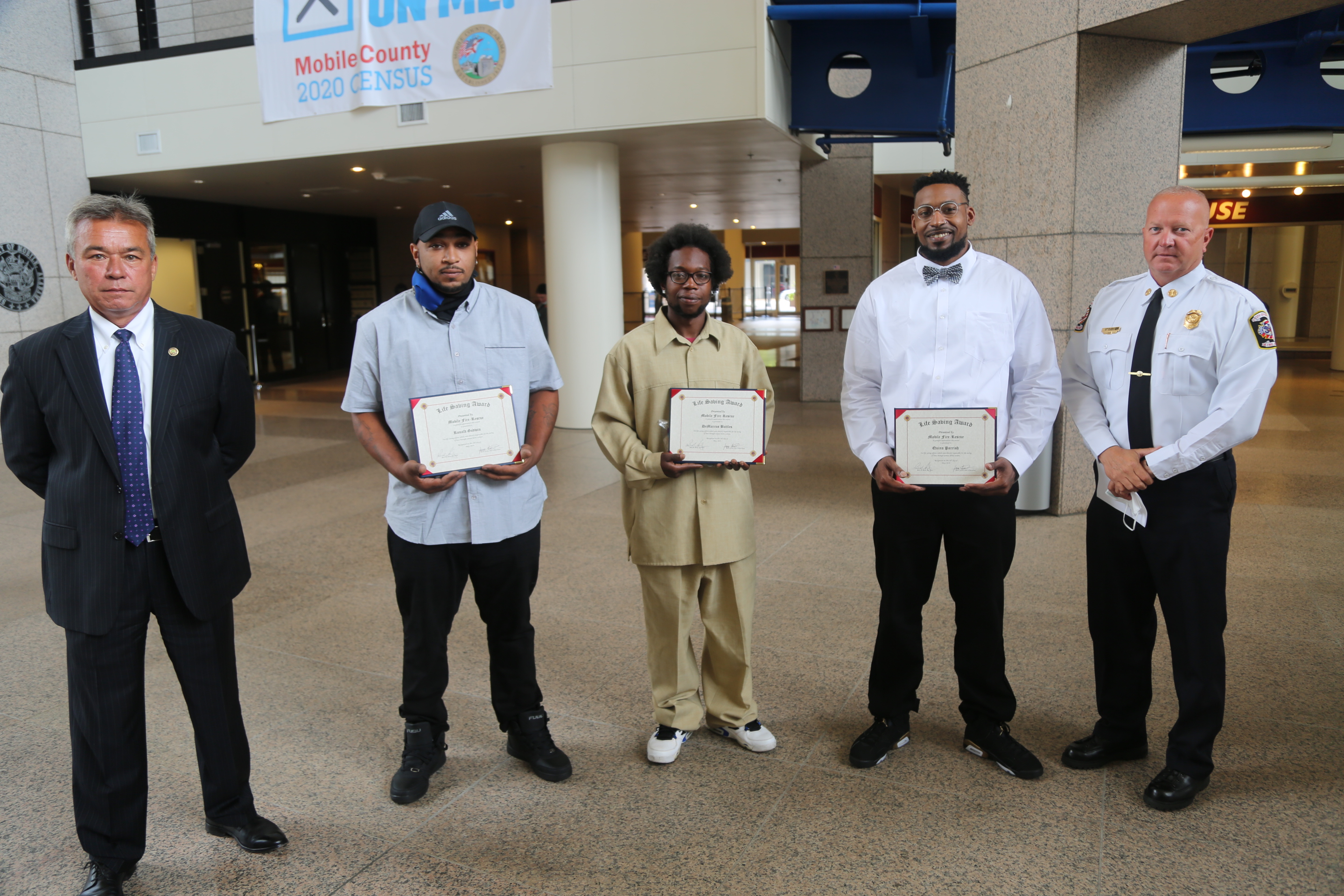 On the afternoon of Wednesday, May 20, 2020, the Mobile Fire-Rescue Department Communications Division received multiple, emergency 911 calls reporting that apartment units were on fire at Serenity Apartments (557 Azalea Rd).
While public safety dispatchers were fielding calls, gathering information, and dispatching first responders to the apartment complex, smoke continued to build in and around building K, which housed 16 residential apartment units. Although most of the apartments were occupied at the time, many of the residents in the building were unaware that a fire was even happening.
Prior to emergency response's arrival on scene, fire continued to spread, growing so large that smoke could be seen for miles. As thick, black smoke rose toward the sky, civilians jumped to action, rushing from door to door, window to window, notifying tenants and neighbors of the ongoing disaster.
Ronald Godwin, DeMarcus Battles, Harold Sykes, and Quinn Parrish, sprinted throughout the 2-story building, alerting occupants and helping to rush them to safety away from the burning structure. With bricks and fire extinguishers in tow, Godwin, Battles, and Parrish banged on doors (forcing entry where needed) and even broke a few windows to gain access to occupants.
Sykes would use a more hands-on approach by wrapping an article of clothing over his fist and punching a window to gain access to occupants. He was able to eventually rescue 4 citizens from a single apartment.
As MFRD firefighters arrived on scene, nearly half of the building was engulfed in flames, earning a 3-alarm response of several dozen firefighters to adequately extinguish the massive blaze.
Without any training, protective gear, or duty to act, these good-natured, brave-hearted civilians threw themselves in harm's way to ensure the safety of more than 20 neighbors, including small children, residing in the burning building.
The Serenity Apartments incident remains a heartbreaking tragedy and traumatizing experience for those involved, burning homes, displacing 16 families, and nearly costing many their lives. The fire, ultimately, destroyed 8 units and damaged 4 others.
Miraculously, however, thanks to aid of these heroic citizens, miraculously, no lives were lost.
On Tuesday morning, during a social-distanced City Council meeting, the Mobile Fire-Rescue Department, in grateful appreciation, presented Life Saving Awards to Ronald Godwin, DeMarcus Battles, Harold Sykes, and Quinn Parrish, for actions and efforts directly responsible for saving lives.