Johnny Morris Jr. Appointed Mobile Fire Chief
Nov 3rd, 2023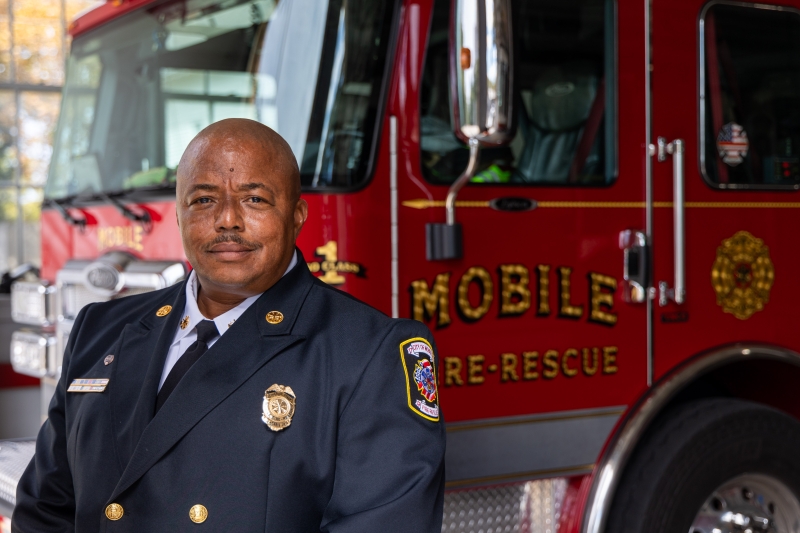 (MOBILE, Ala.) – Johnny Morris Jr. has stepped up to take over the role of Fire Chief for the Mobile Fire-Rescue Department, starting Saturday, Nov. 4, 2023, after Fire Chief Jeremy Lami retired. The mayor and city council officially appointed Chief Morris to the position at their regular meeting Tuesday, Oct. 31.
Chief Morris, who most recently served as Chief of Staff, played an integral role in making MFRD one of only nine fire departments in the nation holding Insurance Services Office ISO-1 rating, Commission on Accreditation of Ambulance Services (CAAS) accreditation and Commission on Fire Accreditation International (CFAI) accreditation. Chief Morris joined the department in 1990, and throughout his career, he has held leadership roles within multiple divisions of MFRD. He becomes the city's first Black fire chief.
"I've met and had conversations with the original Black firefighters who hired on. A few of them mentored me," Chief Morris said. "It's monumental to me because I was that young kid who walked by the fire station and knew nothing about it. Now, I represent all those little kids who could be firefighters. I represent all people."
Chief Morris grew up near Willett Station, passing by the firehouse regularly never dreaming he would one day be a firefighter, let alone the fire chief. After serving in the Marines, he wanted to be a police officer, but when he first applied to the city, he also put in an application to be a firefighter. The fire department called first. "I started training and fell in love with it," he said.
Chief Morris aims to make the fire department an enhanced community partner. "We have all the national accolades," he said. "My goal is to be number one. I want the accreditation to come from the citizens of Mobile."
Chief Morris said he hopes to increase the presence of the fire department in non-emergency situations during positive, everyday interactions with citizens. "Be nice, do good, and you will make a difference," he said.