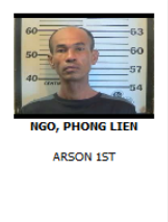 MOBILE, Ala. – On May 17, 2021, at approximately 21:44 hours, Mobile Fire-Rescue Department companies were dispatched to the 100 block of West Collins Street. Bystanders reported a residence on fire in the area.
Upon arrival on scene (21:48), fire personnel confirmed heavy flames present at a single-story residential property. Connecting to a nearby water source, crews immediately established fire scene operations.
With the use of several, charged attack lines, firefighters drowned the scene, successfully extinguished all signs of flames. At approximately 22:15, the incident was reported as under control.
There were no injuries reported from the scene.
Fire Investigators estimate damages in excess of $50,000. Throughout the course of the investigation, the fire was discovered to have been set intentionally.
On May 18th, forty-eight year old Phong Lien Ngo (D.O.B. 4/20/1973) was arrested and charged with 1st-degree Arson.