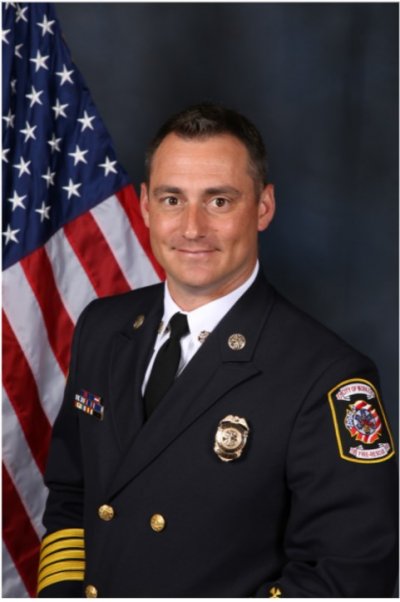 Jeremy P. Lami
Fire Chief
View Bio
The Fire Chief is charged with the overall administration and supervision of the activities of the department including Fire Prevention, Fire Suppression, Emergency Medical Service, Communications, Training and all accompanying support and service functions. The Fire Chief provides a vision as well as the daily direction for the department.
Mobile Fire-Rescue Department's (MFRD) Fire Chief is the chief executive officer supported by two assistant chiefs - the Chief of Operations and Chief of Staff. The Public Information Officer and the Strategic Planning Division also report directly to the Fire Chief.
James Frank
Chief of Operations
View Bio
Johnny Morris, Jr.
Chief of Staff
View Bio
Dwayne Penn, Sr.
Chief of Support
View Bio
Marquis James
Chief of Administration
View Bio
The Chief of Operations oversees the deputy chiefs of each of the three shifts and the District Chief of Logistics. The District Chief of Logistics is responsible for both the Fleet/Facilities and Supply divisions.
MFRD's Chief of Staff oversees the Deputy Chief of Support Services, Health and Safety, and the Deputy Chief of Administration. The Deputy Chief of Support supervises the Communications and Community Risk Reduction divisions, while the Deputy of Administration is responsible for the Emergency Medical Services (EMS) and Training divisions.
In addition to the general duties of each chief officer above, different chief officers are assigned as liaisons with different city departments and functions. This allows a seamless process of administration functions for the department. The Chief of Operations is the liaison with the Mobile County Emergency Management Agency (EMA) and Mobile Airport Authority (MAA). The Chief of Staff is the liaison with City of Mobile Human Resources and City Legal. District Chief – EMS serves as the liaison with Mobile County Board of Health and Alabama State Board of Health. District Chief – CRR is the liaison with the City Urban Development and Mobile Police Department. The District Chief – Communications is the liaison with Mobile County Communications District. The District Chief – Logistics is the liaison with the City Motor Pool Department. The District Chief – Strategic Planning is the liaison with the City GIS, MIT, and Grants Administration.
Each division has a clear chain of command, internal goals, procedures, and accountability. Despite the different job functions of each division, all divisions work as a team to support the overall mission of MFRD.