Choking Child Saved by Conscientious Neighbor
Mar 6th, 2023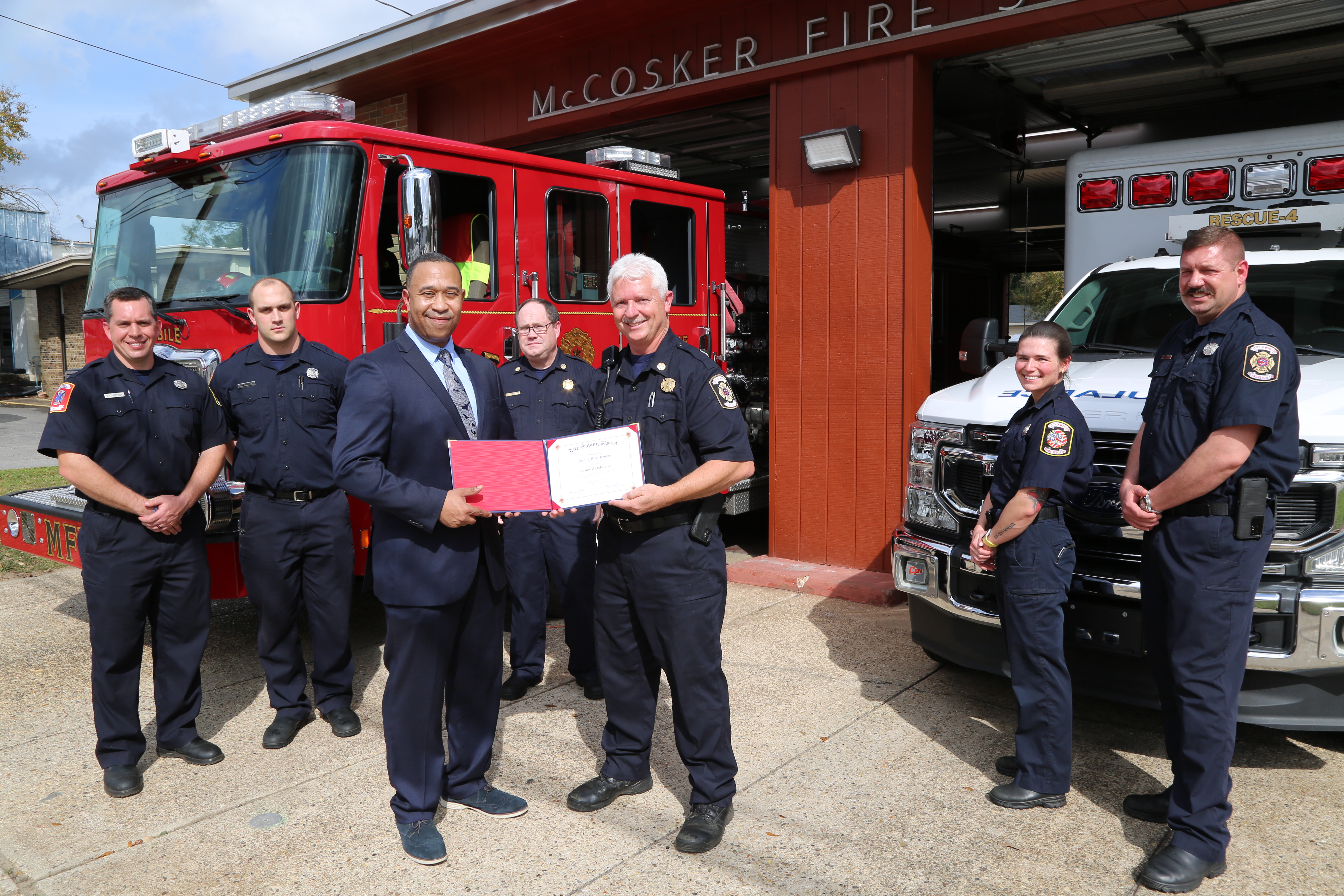 On Saturday, September 24, 2022, Mobile Fire-Rescue Department's Engine 19 and Rescue 19 responded to Sandpiper Townhomes (4950 Government Blvd) for reports of an infant choking and unresponsive.
Ms. Ashley Jackson, mother of 4, recounts the ordeal as one of the most terrifying experiences she has ever had. As a mother, Ms. Jackson was no stranger when having to multitask. On this particular day, she was home cooking a meal and preparing to pick up her oldest child from a local skating rink. While the 10-month old and other siblings played in the living room nearby, Jackson attended to the meal she was preparing, cleaned dishes, and retrieved the car seat for the trip.
When she went to check on the baby, she discovered that the child was eerily quiet and gasping for air. The color in the baby's face began to change, and Ms. Jackson noticed copious amounts of saliva and mucus oozing from her child's mouth. As she rushed over, she noticed that a foam football her kids play with was missing a chunk from it.
Panicked but aware, she called 9-1-1, snatched up her baby, and ran for the door. Unsure of what to do, Ms. Jackson recalled having regularly seen her neighbor in passing, wearing scrubs. For what felt like an eternity, Jackson frantically knocked and banged on the door.
Leonard Osbourne, an employee at Providence Hospital, heard the excited knocking at his door. Checking the peephole, he recognized his neighbor and attested, "I could see on her face that this was serious." After opening the door, Leonard saw the child in a poor condition, struggling to breathe, with blood around its mouth and blueish skin.
"I didn't even think. Instinct took over," recalled Osbourne. "I just took the baby, and thought 'What do I do?' Then, it clicked, and somehow, I immediately remembered my CPR training." While Ms. Jackson was on the phone with emergency dispatchers, Osbourne began performing back blows with the palm of his hand.
After several rounds of back blows, the child's color began to return. The baby spit up blood and mucus, and Osbourne could hear gasps and air flowing in and out of the baby's airway. Paramedics and Emergency Medical Technicians on Engine 19 and Rescue 19 arrived just moments after Osbourne initiated interventions. Supplemental care was provided, but the lifesaving efforts from Osbourne were successful. The chunk of foam football was dislodged and free from the child's airway.
At the invitation of MFRD, Leonard Osborne and Ashley Jackson met again for special presentation at McCosker Fire Station (1275 Azalea Rd) – this time, under much less dire conditions. After the incident on September 24, Fire Service Captain Todd Norsworthy and crew documented the details and nominated Mr. Osborne for special recognition.
"This changed my life," Osborne told the fire crew. "So much so that I'm thinking about teaching CPR, now. It was just that real. In life, you never know why you're put some places and in some positions. It lifted me." Firefighters praised Osborne and comforted Jackson. Captain Norsworthy commented, "A lot of people worry about not doing CPR because they can't do it perfectly. The thing is, we don't need 'perfect.' We just need something."
Osbourne's willingness, quick actions, and training were critical in saving the child's life. As such, the Mobile Fire-Rescue Department proudly presented a Civilian Lifesaving Award to Mr. Leonard Osborne.