Life Saving Awards: Lilley, Leytham, Weishaar, Ingram, Johnson
Nov 15th, 2018
On August 16th, Rescue 3 and Engine 11 were dispatched for a patient experiencing cardiac problems at the Mobile Container Terminal. Engine 11 was first to arrive on scene and were assessing the patient when Rescue 3 paramedics arrived. E11 crew immediately assisted the patient to the rescue truck, informed of the patient's cardiac problems, and advised that they would drive the ambulance and its crew to the hospital. Rescue 3 assisted the patient – a 65 year-old male – to the stretcher, where he informed that he was driving his semi rig when he began to have pain in his chest. Paramedics Ami Ingram and John Johnson leapt to action, attaching a 12-lead EKG and assessing the patient's vitals. The patient exhibited tachycardia, with a heart rate of 140 beats per minutes.
Engine 11's company officer, Captain James Lilley, offered to ride-along with the paramedic crew and observe while also offering to have one of his crew members drive the ambulance. Per state protocols, the patient was given the appropriate dose of nitroglycerin and aspirin. En route to the hospital, as Paramedic Johnson and Paramedic Ingram were monitoring a follow-up 12-lead for changes and obtaining an adequate IV line, the patient grunted, stopped breathing, and presented with signs of ventricular fibrillation. Johnson immediately applied automated external defibrillator (AED) pads, while Captain Lilley grabbed a bag-valve mask for respirations before jumping in place and beginning chest compressions. The team appropriately performed additional life-saving interventions before finally arriving at the hospital.
By the time care of the patient was transferred to the emergency department staff, the patient was alert and talking in the hospital bed. Thanks to the efforts of both crews (and Captain Lilley's insistence on riding along and providing a driver), the patient had a sustainable pulse and was immediately taken the hospital's operating room for definitive care.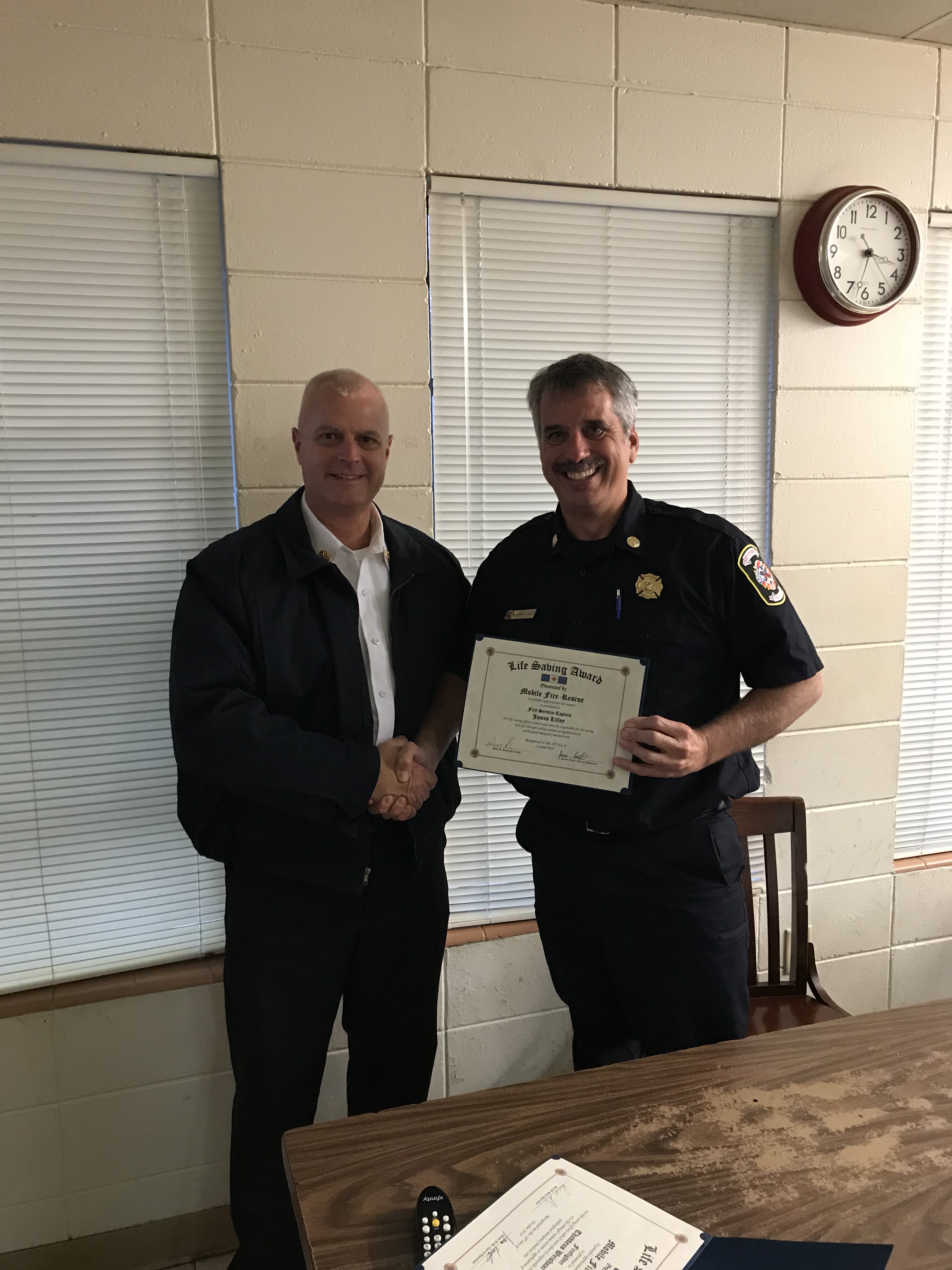 Engine 11 - C shift: Capt. James Lilley, Driver Chris Leytham (not pictured), Firefighter Thaddeus Weishaar
Rescue 3 - C shift: Paramedic Driver Ami Ingram, Paramedic John Johnson