Celebrate Responsibly: Keep Mardi Gras Litter-Free!
Post-Parade Clean Up
After the last firetruck of each parade rolls through, please immediately clear the area and do not cross the barricades - the street cleaners are on the way. Following the end of each parade is a team of people clearing the streets of trash, picking up recycling, and driving street sweepers, to get the City back to beautiful. Following them, is a team breaking down and moving the barricades out of the way. You can learn more about how the City of Mobile cleans after a parade in the video below.
Litter
Mardi Gras is the best celebration around, but it can create a huge mess. It is our responsibility as a community to celebrate without impacting our creeks, rivers, and bays. So once again, this Mardi Gras we encourage you to party on, and pick it up! We've placed Purple Mardi Gras Garbage carts across the entire parade route. Use them! There are also blue recycling bins around the parks for empty cans and bottles (aluminum, plastic and glass). Recycle what you are able and know those unwanted beads, glow necklaces, broken cups, etc. all belong in the trash can, not down the storm drain.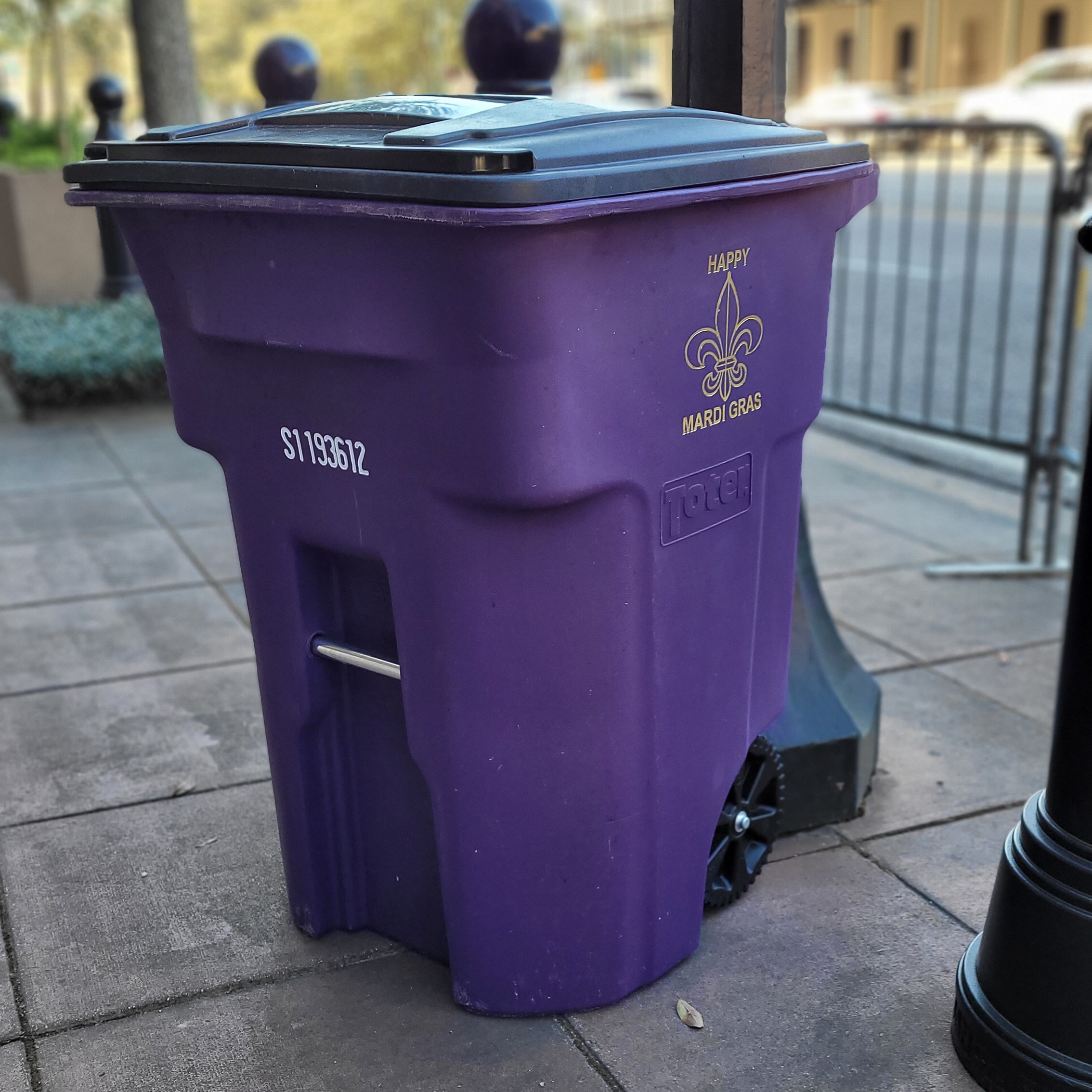 Litter from Riders
If you're riding in a parade, remember that your boxes and bags should be emptied and unloaded properly at the beginning of the parade or stay on the float until you arrive at the end. Help make our Mardi Gras Litter-Free – throw beads, not trash!
Here's what our partners at Mobile Baykeeper suggest:
Earn those throws.

Catch throws, place them in a reusable bag to take home with you or give them to a nearby child to make their night even more magical.

Pick up what is left behind.

Throw it in a nearby trash can and recycle it when possible; encourage your friends to do the same.

Place a trash can outside your business or residence if you are along the parade route to make it even easier for people to dispose of items properly.
Share your Mardi Gras pictures on social media using #LitterFreeMG or #PartyOnJustPickItUp to help us spread the message.