City of Mobile facilities open as cooling centers
Jun 28th, 2023
Posted in: Public NoticeMayorCity CouncilPress ReleaseParks and RecreationCommunications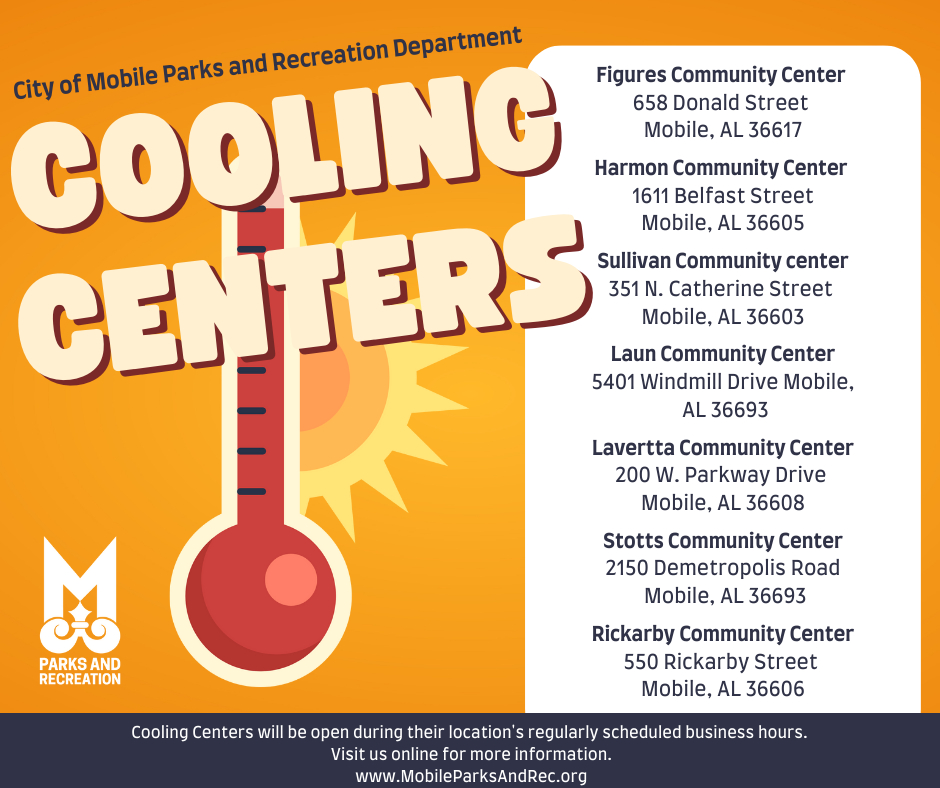 Mobile, Ala. – Due to excessive heat warnings in our area, the City of Mobile has designated several facilities as Cooling Centers that will be available to the public. All Cooling Centers will be open during their location's regularly scheduled business hours when an excessive heat warning is in effect. Please see the list of City of Mobile Cooling Centers below:
Figures Community Center

658 Donald Street

Harmon Community Center

1611 Belfast Street

Sullivan Community center

351 N. Catherine Street

Laun Community Center

5401 Windmill Drive

Lavretta Community Center

200 W. Parkway Drive

Stotts Community Center

2150 Demetropolis Road

Rickarby Community Center

550 Rickarby Street

For information on hours visit: https://www.cityofmobile.org/parks-rec/community-centers
MPRD Cooling Center Rules
Any property, bags, clothing, etc.… are subject to be checked before person(s) can be admitted to facility. Failure to cooperate will result in denial of entry.

All bags will be stowed in a common secured area. Access will be granted on an as needed basis. Failure to cooperate will result in denial of entry.

No alcohol or tobacco is allowed inside this facility. Staff will determine designated outside smoking area.

Participants must respect everyone, always.

Participants must follow rules and always adhere to directives given by staff.