McGregor Avenue Project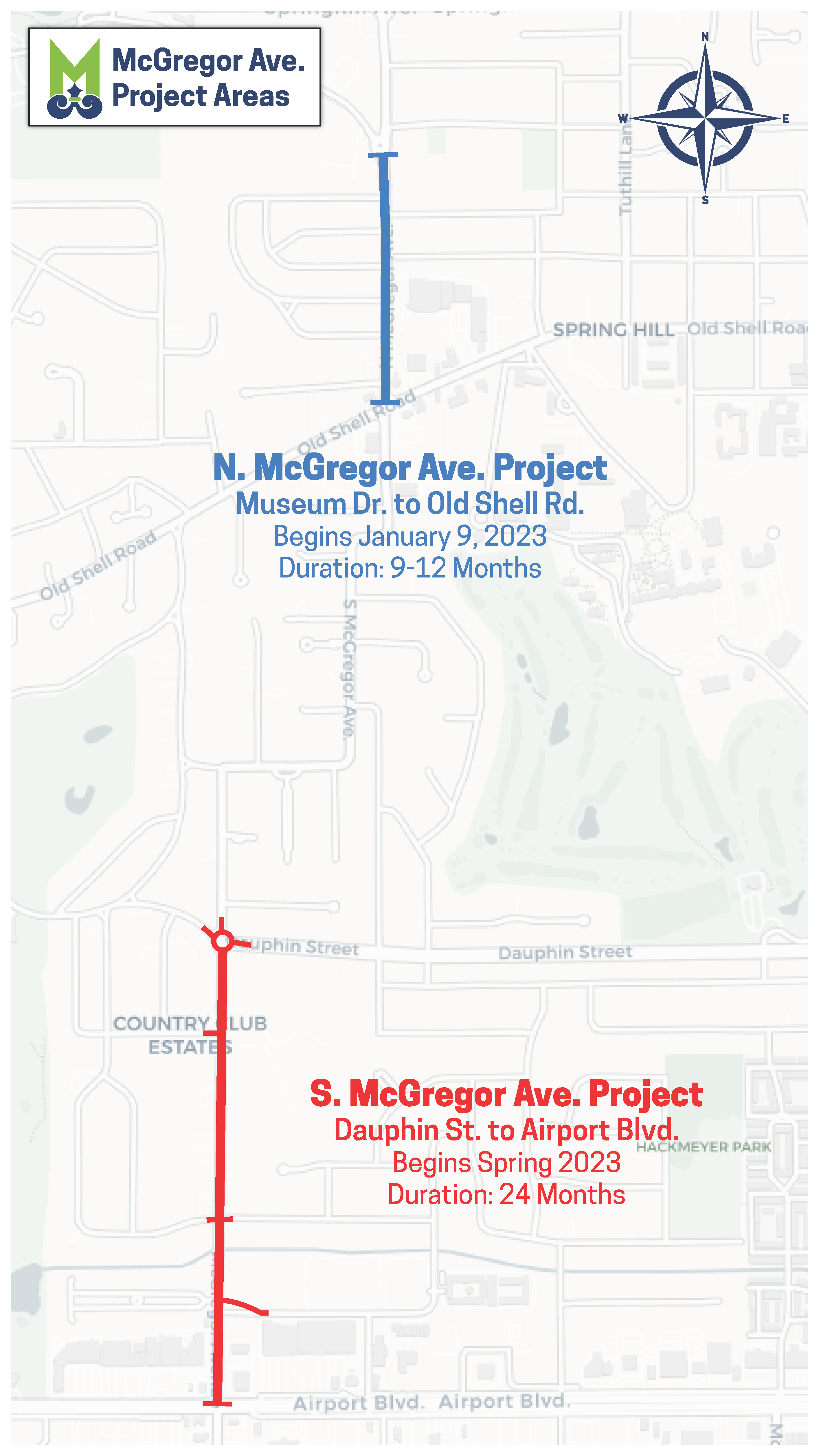 About the South McGregor Avenue Project
On May 1, 2023, the City of Mobile began working with the Alabama Department of Transportation (ALDOT) on a major construction on S. McGregor Ave. between Dauphin St. and Airport Blvd. Traffic will be limited to residents, emergency vehicles and service vehicles while the project is under construction. All other traffic will use one of the alternate routes identified below.
The S. McGregor Project has been in the works for more than 15 years.
The construction cost of the project is $16.5 million, with total costs of around $23 million.
Community Meetings
As key components of the project move forward, we will communicate directly with citizens in the area and the public at large. The City of Mobile and City Council members have already met with multiple groups and local HOA Leadership to discuss the project. Our staff members have also canvassed the area in person to inform residents about the project.
During Construction
The City of Mobile is working to minimize cut-through traffic through the main neighborhoods affected by this project: Llanfair, Yester Oaks, and Country Club Estates. The City will be announcing and promoting suggested alternative routes for residents. Airport Boulevard, Spring Hill Avenue, Old Shell Road, Bit & Spur Road, University Boulevard, Interstate 65 and the I-65 Service Roads will remain open throughout the project.
Motorists will not be able to turn left onto McGregor Ave. from Dauphin Street, but the intersection of McGregor Ave. and Dauphin Street will remain open during much of the project. We will notify residents and the public ahead of any closures of the intersection.
Time and Start Date
The S. McGregor Project broke ground on May 1, 2023, and is expected to take approximately two years. As work continues, McGregor Ave. will remain closed from Dauphin Street to Airport Blvd.
Community Outreach
Stay connected with information regarding the North McGregor Avenue project. Send an email to mcgregorave@cityofmobile.org. To receive project notifications, text MOBILEMCGREGOR to 91896.
Pedestrian Safety
As work continues on the South McGregor Avenue project, we would like to remind those in the area that roads closed to through traffic are also closed to bicycles and pedestrians. If you do not live in the immediate area, we ask that you please find alternate routes for walking and biking activities. If you live along McGregor Ave., we ask that you please be careful when workers and heavy machinery are present. Our goal is to keep everyone in our construction zones safe, and your cooperation helps.